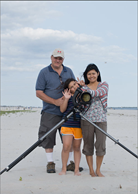 Outline
Ray will discuss long lens techniques and then show a number of his images and provide a narrative for each image together with descriptions, good points and bad points and explanations of how he captured the images.
Bio
A very long time ago I was given a 110 cartridge-based film camera and the passion began! Next was a lesser expensive SLR, then graduating to a Canon when I was about 20. More Canon cameras and lenses followed until the first Nikon D70 DSLR came along in about 2003. This was after going through two Sony "point and shoot" cameras!
A dream I had since I was about 5 years old was to take photos of red-tailed hawks. Soon after the D70 purchase came the 70-300 mm gear-drive lens, and within minutes I had my first hawk in the viewer! This bird was inside 20 feet! From here, the passion went wild (so to speak). I met up with new friends, they showed me the "how 2's", and I was off and running. Soon, (2008) I was hosting one-on-one workshops, then groups, then by 2010 – travel tours!
Now, 500 programs later we are still going strong – Africa, Florida, Texas, India, Ecuador and more. Local day trips in Canada and USA keep me busy between travel programs. My passion is learning. I watch and study nature documentaries in my spare time. Understanding real nature is the first step to success in this hobby or business.
Social media
Website http://www.raymondbarlow.com
Facebook https://www.facebook.com/Natureandwildlifewithraymond/
Please Note: These are scheduled as online meetings and a Zoom link will be sent out a day or two in advance of the meeting. Duration of the meetings will normally be an hour and a half, unless otherwise posted.
Guests: There is a $10.00 charge for attending meetings where we have a guest speaker. You can register for the event by clicking on the Booking button below. You will receive a follow up email with the aforementioned link to the meeting. Thank You!