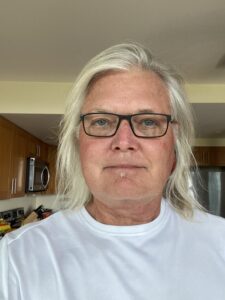 Presentation Description
In about 75 minutes, Cole Thompson will make the case that black and white is the perfect medium for any subject…except for one. Cole will show work from his various portfolios including The Ghosts of Auschwitz-Birkenau, Harbinger, Ceiling Lamps, Moai, Sitting for Portrait, The Lone Man, Negative Intersections and others.
Interspersed between the images Cole will share his photographic philosophies, such as:
Never listen to others
Photographic Celibacy
Coles Rule of Thirds
Equipment is overrated
Vision is the most important tool in my toolbox
And many others
At the end of his presentation Cole will answer questions and give away a print of The Angel Gabriel
Biography
Cole Thompson is uniquely unqualified to speak on photography.
"I've never taken a photography class or a workshop. I don't have a degree in art. I've never worked as a photographer. I don't have gallery representation. I'm not a Canon Explorer of Light. And I only have three lenses and none of them are primes.
Do I have any qualifications? Just one…my images. Nothing else matters.
Social Media
Website:      https://colethompsonphotography.com/
Facebook:    https://www.facebook.com/ColeThompsonPhotographer/
Instagram:  https://www.instagram.com/explore/tags/colethompsonphotography/?hl=en
Please Note: These are scheduled as online meetings and a Zoom link will be sent out a day or two in advance of the meeting. Duration of the meetings will normally be an hour and a half, unless otherwise posted.
Guests: There is a $10.00 charge for attending meetings where we have a guest speaker. You can register for the event by clicking on the Booking button below. You will receive a follow up email with the aforementioned link to the meeting. Thank You!
Bookings
Do you already have an account with us?
Sign In
Log in if you already have an account with us.