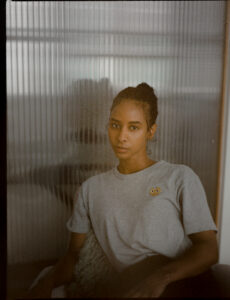 Presentation Outline
Learn how to navigate public spaces, interact with people on the street and the art of creating authentic portraits under a short time, and pressure. Leave feeling confident in your ability to capture fleeting moments within street photography.
Bio
A graduate of Metropolitan University's MFA program Documentary Media in Film and Photography, Ebti is a visual artist who works with photography, video, and installation. She is a digital and analogue photography instructor. She teams up with galleries and community art organizations to develop art programs that provide opportunities for creative self-expression and aid in the development of identity. Her personal work focuses on telling stories of the everyday person, often from underrepresented communities. She also uses her work to connect with her home country, Sudan, the people and culture of Sudan. She hopes her documentations serve as bridges between people and communities.
Her exhibits include:
Three-Thirty, The Bubble of Youth (2020), a part of Scotiabank CONTACT exhibited at the Doris McCarthy Gallery, and as an outdoor installation in Malvern.
Safety in Public Space (2020) where she traveled city wide within Toronto to public spaces capturing communities' changing interactions within their local parks, squares and centers of communal gathering. The work examined how ideas of safety manifest and are communicated in public spaces through borders, boundaries, signs, symbols, and public space architecture.
Tea Ladies of Sudan (2019) is a photo and video project funded by Canada Council. This work highlights the lives of Sudanese women who sell tea for living.
In 2022, her work was featured in the African Biennial of Photography held in Mali.
Social Media
Website:      https://www.ebtinabag.com/
Instagram:  https://www.instagram.com/ebti_n/?hl=en
Please Note: These are scheduled as online meetings and a Zoom link will be sent out a day or two in advance of the meeting. Duration of the meetings will normally be an hour and a half, unless otherwise posted.
Guests: There is a $10.00 charge for attending meetings where we have a guest speaker. You can register for the event by clicking on the Booking button below. You will receive a follow up email with the aforementioned link to the meeting. Thank You!
Bookings
Do you already have an account with us?
Sign In
Log in if you already have an account with us.