Speaker 1       Jim Chung – Discovering Wildlife in Toronto's Don Valley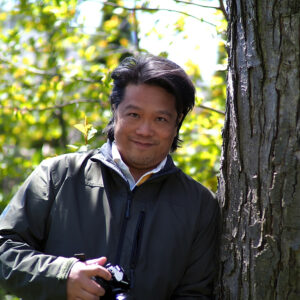 Presentation Outline
Jim will do an introduction and personal journey description of his coffee table book on urban wildlife in Toronto:   "Discovering Wildlife in Toronto's Don Valley".  And beyond this, he will include photos from a recent moose safari and polar bear expedition.
Bio
Jim Chung has been a health care provider for three decades and is now down to working only two days a week to give more time for his writing and photography.  He has written for several magazines and has had two books published and most recently has won 2nd place in a local Toronto winter photo contest as well as honourable mention in Reader's Digest Annual Canadian Photo Contest.   Dr. Chung lives in Toronto with his family and has taken up ballroom dancing with his wife since it is so far outside his comfort zone.
Social Media
Website:  https://jimchung.smugmug.com/
Facebook:    https://www.facebook.com/jim.chung.980/
Instagram:  https://www.instagram.com/jimchung268/?hl=en
Speaker 2       Zunaid Khan – Ethical Nature Photography: What is it, Why it matters, & What you can do
Presentation Outline
Increased pressures on our green spaces and increased usage of these spaces in the pandemic have led to increased instances of wildlife disturbances. As a nature photographer and naturalist influenced by nature conservation and the practices of ethical nature photography, Zunaid Khan, will share his journey as a photographer, while addressing what wildlife disturbance is, its impact and what we as photographers can do to minimise our impact on nature while seeking to capture its beauty.
Bio
Zunaid Khan is a Nature photographer and Naturalist based in Toronto, Canada. He is President of Toronto Field Naturalists and Fellow of the Royal Canadian Geographic Society, who was born in South Africa and moved to Canada in 1979. He worked in the technology industry for over 20 years before deciding to pursue an interest in photography and nature. Spending a great deal of time hiking in and around the Toronto area, learning about the natural world and studying wildlife behaviour, which is the driving force behind his work, led to a need to become more involved in nature conservation. Educating people about nature, enabling them to understand what we need to protect, conserve and restore has become one of the primary motivations behind his photography.
Socail Media
Website:      https://torontofieldnaturalists.org/
Instagram:  https://www.instagram.com/TorontoFieldNaturalists/
Please note:  On evenings where we have a guest speaker, there is a $10.00 cover charge at the door for non-members.